The Kohler Numi Goes Mobile
As the Kohler plumbing division prepared for the release of their cutting-edge Numi toilet, they called on Dynamic to develop a demo site that would function as a showroom tool for their sales people to demonstrate the capabilities of the Numi in a way that was as tech-savvy and sophisticated as the toilet itself.
The basic request from showrooms around the country was the ability to explain the toilet's features in an effective way when a sales associate wasn't present. The Numi, though a toilet, is a product not easily explained with text. The solution would come with the development of a demo that visually explained the Numi once a consumer inside the showroom scanned a QR code with their smart phone.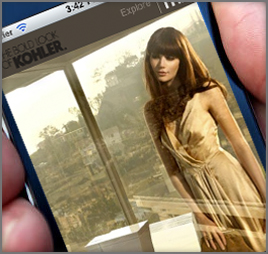 After viewing the demo built by Dynamic, the Kohler team expressed interest in expanding the demo site into a complete mobile version. Kohler had already developed a microsite for the launch of the Numi; however, they desired something specifically for mobile devices yet just as robust as the microsite.
Taking the existing theme from the original microsite, the mobile version was built to load quickly and display correctly on the vast majority of smart phones with modern web browsers. To achieve this, Dynamic employed heavy use of HTML5 and AJAX, which translates to cross-device compatibility and a look and feel more akin to an app than a website.
Users are greeted with a carousel of images on the home page, and after a short period of time they are redirected to the overview page where they can find comprehensive information on the Numi that leans heavily on visual demonstration. Essentially, the mobile site provides the consumer with a virtual tour of the Numi's features. All of the animations were custom built in AJAX, rather than Flash, to better demonstrate the capabilities and features of the product.
The development of the Numi mobile site has opened the door for a continued partnership between Dynamic and Kohler as it relates to future mobile projects. To view more images from the project, visit our work page.
The Kohler Company, founded in 1873 and headquartered in Kohler, Wis., is one of America's oldest and largest privately held companies. Kohler is a global leader in kitchen and bath products, engines and power generation systems, furniture and decorative tile, and an international host to award-winning hospitality and world-class golf destinations.
Dynamic Develop is a web solutions provider that creates elegant, innovative websites and marketing campaigns to help clients build their business online. A full-service resource for website concept and development, domain registration, web hosting, e-mail marketing and social media marketing, DynamicDevelop has the expertise to grow your business.
Learn more by browsing our website or calling 920-459-8889.