Mineral Exploration Company Reinforces International Presence With Website Redesign
River Hills Resources, Inc., a mineral exploration company, wished to expand further into a global market. Boasting a sustainable approach to mineral extraction, River Hills wanted to make sure they had to best tools to showcase themselves on the web to investors across the globe.
Dynamic identified several areas on their old site that could be improved upon while still maintaining the purpose of the site: investor relations. Dynamic offered a visual design that was more engaging via photo and video galleries, slide shows, and a live stock ticker.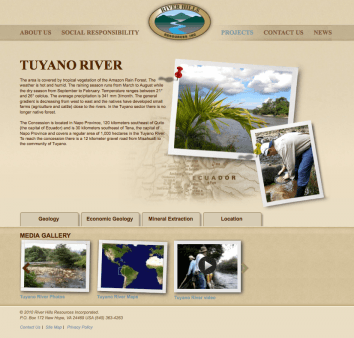 After River Hills approved the design, Dynamic moved to piece together the site using HTML, CSS, and Ajax. The site features common-sense navigation, loads quickly and is search-engine optimized. During the process, River Hills indicated the desire for self-managed updates, so Dynamic included functionality that allowed River Hills to swap out images, text and video at their will.
"I have worked with two other web agencies in the same capacity and I can unequivocally state that [Dynamic] is the only one I can recommend," said Paula Kletzien, Director of Communications at River Hills Resources, Inc. "Among the items that set [their] agency apart from the others is [their] focus on communicating with the customer. The other, of course, would be the quality of [their] work."
River Hills Resources Inc. is a global junior exploration company aggressively seeking growth in the gold and precious metal mining industry. They believe that the foundation for effective partnerships is mutual respect and build long-lasting relationships with our neighbors based on shared objectives.
To learn more, visit http://riverhillsresource.com.
Dynamic is a web solutions provider that creates elegant, innovative websites and marketing campaigns to help clients build their business online. A full-service resource for website concept and development, domain registration, web hosting, e-mail marketing and social media marketing, Dynamic has the expertise to grow your business.
To learn more, visit http://dynamicdoes.com or call 920-459-8889.