Jagemann Technologies Sets Their Sights on Integrated Marketing
A necessary part of launching a new company division is the immediate availability of marketing materials. Jagemann Stamping, recognized world wide as a leading manufacturer of deep drawn metal stampings, was gearing up to launch Jagemann Technologies, a division focused solely on the manufacturing of premium brass bullet casings.
Jagemann Technologies' goal was to cultivate relationships with ammunition manufacturers around the world. They enlisted Dynamic to assist them in creating an integrated marketing campaign that included both online and print materials.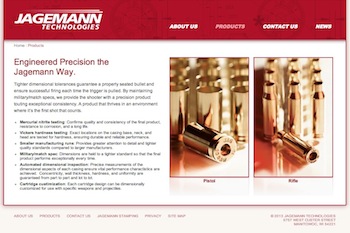 Dynamic met with the marketing team at Jagemann Stamping to determine the best approach. Immediately identifiable needs were a website, print literature for the two casing types they offered, a folder to hold the print literature, and multiple table-top and pull-up displays for an upcoming trade show.
After gathering information from Jagemann Technologies about their goals, Dynamic researched the existing bullet casing market in order to create an overall tone and look unique to the branding of Jagemann Technologies. This enabled Dynamic to quickly approach Jagemann with multiple visual and tonal concepts for review.
After design approval, Dynamic simultaneously designed the print materials and website. Work had to be done efficiently, as the print pieces and the website needed to be ready in time for a rapidly approaching manufacturing tradeshow.
The print material and website were designed with integration in mind: the print would include some of the static information that could also be found on the website; at the same time, the print pieces encouraged the reader to visit the website to learn more information about Jagemann Technologies.
The website utilizes modern HTML, CSS and jQuery for a clean look and transition between page elements and was set up in such a way that once Jagemann Technologies expands its line of bullet casing offerings, new products can be easily added without impacting the design or functionality.
Click here to see additional marketing materials from Jagemann Technologies' launch.
Jagemann Technologies is proud to be the only privately-held U.S. manufacturer of premium brass bullet casings for rifles and handguns. As a division of Jagemann Stamping Company, they apply over sixty years of expertise in the metal stamping industry towards the manufacturing of top-of-the-line bullet casings.

Dynamic, Inc is a web solutions provider that creates elegant, innovative websites and marketing campaigns to help clients build their business online. A full-service resource for website concept and development, domain registration, web hosting, e-mail marketing and social media marketing, DynamicDevelop has the expertise to grow your business.
Learn more by visiting http://dynamicdoes.com or by calling 920-459-8889.