Dynamic Helps Skana Aluminum Recruit Top Talent
SHEBOYGAN, WI (11/18/10) -- Opening a business in a community that has many established competitors can be a challenge, but Skana Aluminum's decision to do just that is paying off, thanks to their online presence created by DynamicDevelop. Skana is now poised to be a leader in the revitalization of the Manitowoc-area aluminum industry.
Skana's goal was to reach out to individuals in the community who had lost their jobs when another large aluminum company laid off all of its workers and moved its operations offshore.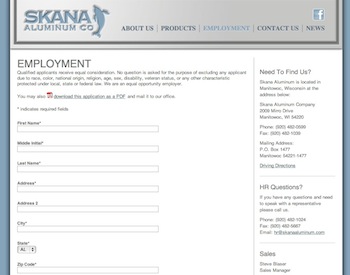 DynamicDevelop's first step was to create a simple yet effective online employment application that would be the main focus of Skana's website. DynamicDevelop's quick deployment of the Skana site and employee application system resulted in over 75 men and women being hired, which allowed the organization to begin functioning at capacity.
DynamicDevelop works with businesses both large and small to identify needs and offer smart solutions. Skana needed five landing pages, and they needed them up and running immediately: Skana literally signed off on the project on a Friday and needed the site online by the following Tuesday. Functioning as the foundation for the project, the initial launch set the tone for Skana's site as it relates to design, flow, and purpose while allowing future updates to be added with ease.
Users who visit Skana's site benefit from a clean design and an intuitive layout, meaning that both the experienced and inexperienced online consumer can easily navigate the site. The design is basic enough to allow for additions as the company grows, yet its complexity presents a professional, sophisticated feel to those who view it.
Visit the new Skana Aluminum website at http://skanaaluminum.com/.
Skana Aluminum Companyis named after the tribal name for killer whales. Killer whales are known for their intelligence, strength in numbers and swift powerful movements. Like a killer whale, the investors of Skana Aluminum Company look to move swiftly in numbers to revive a business that can be a great asset to Wisconsin and the Midwest. With large capital commitments for year one and two, the leadership team projects an extensive customer base with the potential for global exports.
DynamicDevelop Online Solutions is a web solutions provider that creates elegant, innovative websites and marketing campaigns to help clients build their business online. A full-service resource for website concept and development, domain registration, web hosting, e-mail marketing and social media marketing, DynamicDevelop has the expertise to grow your business.
Learn more by visiting http://dynamicdevelop.com or calling 920-459-8889.